A bit of history
This ancient aristocratic residence was built in late XVI century in the so-called "miglio d'oro" (golden mile). This definition comes from the distance (just 1 mile) between Herculaneum excavations and Torre del Greco, a town on the slopes of Vesuvius, and from the historical, architectural and landscape treasures of the area.
King Charles VII of Naples, enchanted by landscape and climate, decided to erect the Palace of Portici and to finance Herculaneum excavations.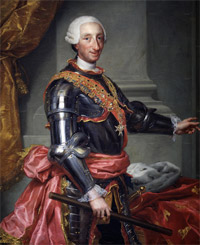 The prestigious presence of the Palace induced Neapolitan Court to build magnificent villas and gardens along the golden mile, having recourse to the best architects of the time.
Casina de Goyzueta belongs to an ancient patrician family. It is situated between the Gulf of Naples and Vesuvius, surrounded by gardens rich in flowers and citrus trees.
The environment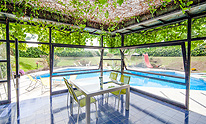 The surroundings are silent and enjoy peace and quiet. It's a sort of oasis of calm over the bustle of the city. Here you can relax after a day spent by visiting the countless attractions of the area. You will be able to enjoy a vacation in the core of the Gulf, to visit Herculaneum and Pompeii excavations, the sights of Vesuvius and Sorrento peninsula. And then come back and relax in a graceful place, fitted with luxury facilities: from barbecue to swimming pool, from garden to tennis court.
Here at Casina de Goyzueta luxury b&b you can enjoy, in a room with a view or even in the garden, a rich and varied breakfast, continental or English, with local product and fresh fruit.